Join us for Book club!
On the 3rd Friday of each month, Transparent Heart Yoga will be hosting a Traditional Book Club. THY Book Club will be from 6-8pm. Read the book before you come, and one of our teachers or someone in the community will guide you through a discussion on the book. Read the book years ago? Join us anyway for discussion, and to gather with those with similar interests! This Book Club is free to all in the Transparent Heart Yoga Community. Please bring a journal for jotting down notes. See details below on dates and books to be discussed. Have a book recommendation? Let us know!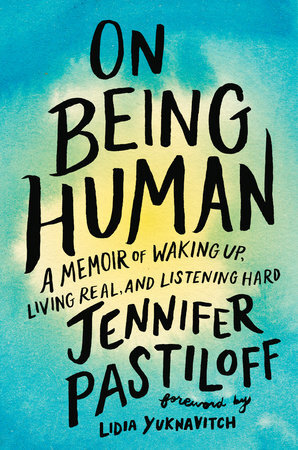 "On Being Human" Jennifer Pastiloff
October 18th, led by Amanda James
An inspirational memoir about how Jennifer Pastiloff's years of waitressing taught her to seek out unexpected beauty, how hearing loss taught her to listen fiercely, how being vulnerable allowed her to find love, and how imperfections can lead to a life full of wild happiness.

Centered around the touchstone stories Jen tells in her popular workshops, On Being Human is the story of how a starved person grew into the exuberant woman she was meant to be all along by battling the demons within and winning.

Jen did not intend to become a yoga teacher, but when she was given the opportunity to host her own retreats, she left her thirteen-year waitressing job and said "yes," despite crippling fears of her inexperience and her own potential. After years of feeling depressed, anxious, and hopeless, in a life that seemed to have no escape, she healed her own heart by caring for others. She has learned to fiercely listen despite being nearly deaf, to banish shame attached to a body mass index, and to rebuild a family after the debilitating loss of her father when she was eight. Through her journey, Jen conveys the experience most of us are missing in our lives: being heard and being told, "I got you."

Exuberant, triumphantly messy, and brave, On Being Human is a celebration of happiness and self-realization over darkness and doubt. Her complicated yet imperfectly perfect life path is an inspiration to live outside the box and to reject the all-too-common belief of "I am not enough." Jen will help readers find, accept, and embrace their own vulnerability, bravery, and humanness.
"Big Magic" Elizabeth Gilbert
November 15th, led by Courtney Sabbagh
"A must read for anyone hoping to live a creative life… I dare you not to be inspired to be brave, to be free, and to be curious." —PopSugar
From the worldwide bestselling author of Eat Pray Love: the path to the vibrant, fulfilling life you've dreamed of.
Readers of all ages and walks of life have drawn inspiration and empowerment from Elizabeth Gilbert's books for years. Now this beloved author digs deep into her own generative process to share her wisdom and unique perspective about creativity. With profound empathy and radiant generosity, she offers potent insights into the mysterious nature of inspiration. She asks us to embrace our curiosity and let go of needless suffering. She shows us how to tackle what we most love, and how to face down what we most fear. She discusses the attitudes, approaches, and habits we need in order to live our most creative lives. Balancing between soulful spirituality and cheerful pragmatism, Gilbert encourages us to uncover the "strange jewels" that are hidden within each of us. Whether we are looking to write a book, make art, find new ways to address challenges in our work, embark on a dream long deferred, or simply infuse our everyday lives with more mindfulness and passion, Big Magic cracks open a world of wonder and joy.
Due to the hectic-ness of the holiday season, there will be no Book Club in December
"Fierce Medicine" Ana Forrest
January 17th, led by Katelyn Carpenter
Ana Forrest has been changing people's lives for nearly 40 years. Now this innovative yoga master draws on her own amazing life story to reveal powerful physical, emotional and spiritual practices for healing and growth. In her new book, Ana offers a guide to living fully in our lives and bodies, allowing us to discover the healing power of our body's wisdom. From "stalking fear" to "walking free of pain" and "learning the art of truth speaking," Ana distills and shares wisdom from her own life experiences, making complex ideas practical and easily applied, offering a new blueprint for life.